While almost 500 candidates are vying for 76 seats on the country's Great Hural on Wednesday, the race has been a two-way contest between the ruling Democratic Party and the opposition Mongolian People's Party, which ran country during its communist era. The campaign has seen the government promote accomplishments such as a nationwide road-building program, while the MPP accuses it jeopardizing the country's mineral wealth by piling on debt.
Once hailed as Asia's "wolf economy," Mongolia has fallen on hard times as China's slowdown dampens demand for its copper ore and sluggish global growth keeps commodity prices at 15-year lows. Unemployment surged more than four percentage points year on year to 11.6 percent in March. The currency, the tugrik, has lost about a third of its value since the last election four years ago.
"The business environment is getting worse and worse each year," said Sumati Luvsandendev, director of the Sant Maral Foundation in the capital, Ulaanbaatar. "People are losing jobs. Quality of life is deteriorating. This will be the main factor that will impact voters' opinions at election time.''
The slowdown has taken its toll on the public finances as revenue falls and the DP plows ahead plans to expand infrastructure in one of the world's most sparsely populated countries, with 3 million people spread across an area almost the size of Alaska. The World Bank last month recommended spending controls to maintain fiscal stability after lower earnings from mining exports caused budget revenue collections to fall 11 percent year on year in the first three months of the year.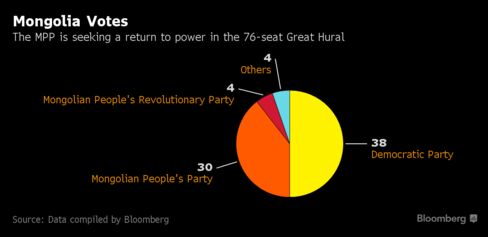 MPP Secretary Bulgantuya Khurelbaatar said the opposition party wouldn't increase debt to cover existing repayments, but austerity could be in the cards. An International Monetary Fund package would only be considered as a "last resort," she said.
"Whoever wins will have a lot of mess to clean up," said Bulgantuya, a graduate of Yale University and former employee of the Oyu Tolgoi copper mine. "Two years will probably be spent just rebuilding the economy, rebuilding trust of investors, both foreign and Mongolian."
Campaign Restrictions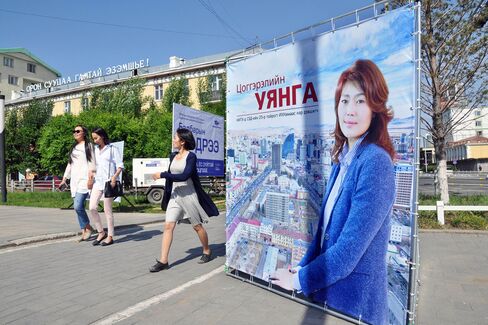 Despite such debates, this year's elections have been quieter than previous ones. New laws limiting the campaigns to just 17 days and putting more rigorous standards on candidate registration made it difficult for smaller groups to challenge the two main parties. New rules also prevented parties from promising post-election cash handouts.
Instead, the DP government offered earlier this month to buy back shares of state-owned coal miner Tavan Tolgoi that had been allocated to citizens in 2011. The program amounted to about $150 per shareholder, with 1.2 million applying as of Tuesday.
'Debt Card'
Prime Minister Saikhanbileg Chimed has described Mongolia's debt-to-gross-domestic-product ratio of 52.3 percent as sustainable. And his fellow DP lawmaker, Oyungerel Tsedevdamba, accused opposition parties of "playing the debt card."
"They are threatening people that everything is falling down and the country is falling apart and everyone is born with huge debts," he said while campaigning in the northern province of Khovsgol. "They are bringing fear because people are insecure."
There's little polling available to help gauge the outcome. An April poll by the Sant Maral Foundation gave the MPP a 6.6 percentage lead over DP, with the Mongolian People's Revolutionary Party as a distant third.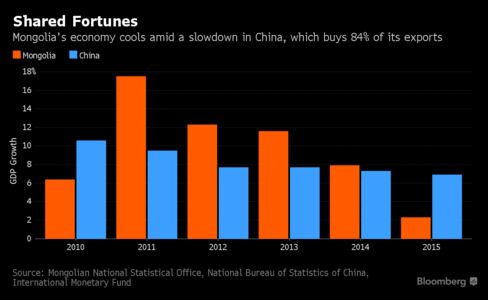 As government debt rises, foreign direct investment has collapsed, falling to $121.5 million last year, from $4.45 billion in 2012. Investment was dragged down after a dispute between the government and Rio Tinto Group, which controls 66 percent of the Oyu Tolgoi mine, the country's biggest taxpayer.
The disagreement was resolved last year with a $4.4 billion financing deal to fund an expansion of the mine, but only after Saikhanbileg's predecessor was ousted in a vote of no-confidence. Any positive effects won't be felt until well after the ballots are cast.
"FDI is picking up compared to last year, and I think the economy is ready to bottom out," World Bank Senior Economist Taehyun Lee said. "Depending on what happens in the next half, Mongolia can benefit from the positive momentum."