Mongolia's new parliament has named a former finance minister who helped oversee the an expansion of the massive Oyu Tolgoi mine to steady the economy as the country's next premier.
A week after the Mongolian People's Party unseated the Democratic Party in a landslide election win, lawmakers voted in Erdenebat Jargaltulga, 41, as prime minister. The appointment was approved with 68 votes for and two against in the 76-seat Great Hural.
"The economy is in a difficult situation," Erdenbat said in his acceptance speech. "We fully intend to establish a professional, merit-based government at all levels. The focus will be on urgent stabilization of the economy, plus fiscal discipline. We will cooperate with international financial institutions."
The selection was relatively smooth for a country with a history of disorderly power transitions. The MPP, which won 85 percent of the seats in the June 29 elections, has so far faced little opposition in nominating its members to positions of power. MPP chairman Enkhbold Miyegombo earlier this week ascended to the position of speaker.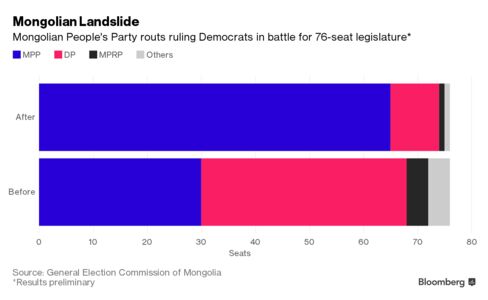 Erdenebat served as finance minister under former Prime Minister Saikhanbileg Chimed in 2014-15, when the major parties unified to approve the second phase of the Oyu Tolgoi project. He has been a member a parliament since 2012 and previously served as provincial governor in Selenge Aimag, north of the capital Ulaanbaatar.
The relatively little-known Erdenebat will serve as the MPP's public face as Mongolia heads into deeper economic uncertainty. The nation's growth slowed to 2.3 percent last year, compared to a world-beating expansion rate of more than 17 percent in 2011, the year before the MPP lost power to the DP. The national debt doubled during the DP's tenure, and more than $1 billion in sovereign debt is expected to come due in the next 18 months.
Foreign direct investment has also collapsed, dropping to $121.5 million last year, from $4.45 billion in 2012. Investment was dragged down after a dispute between the government and Rio Tinto Group, which controls 66 percent of the Oyu Tolgoi mine, the country's biggest taxpayer.
Khurelsukh Ukhnaa was seen as the leading candidate to become deputy prime minister, a role he also held in the Saikhanbileg unity cabinet.
More Experienced
"While the Democratic Party was genuinely thought of as well-meaning, it lacked the experience of running a country," Lee Cashell, founder of Asia Pacific Investment Partners, said in a note to investors. "The MPP, which has governed outright or through coalitions from 2000 to 2012, has no such problem."
The MPP, a center-left party that ruled the country unchallenged during its communist era, made populist promises during the campaign. The party promised to build 100 factories across the country's 21 provinces over the next four years — its so-called 21/100 plan — and pledged to pay new mothers the equivalent of the monthly minimum wage, or 250,000 tugrik ($124), for 18 months.
"The party will be in a position to pass legislation without meaningful opposition or public discussion," said Cashell, who has been investing in Mongolian real estate for 15 years. "This opacity could spell trouble down the road for a ruling party in a country whose population is weary from tales of government corruption and mismanagement."